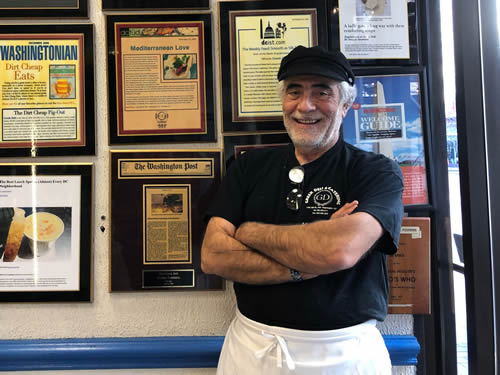 For nearly three decades, Greek Deli has been an institution in the Golden Triangle neighborhood serving a small menu of fresh Greek favorites to lines of customers each day. Owner and chef Kostas Fostieris came to the DC-area from Greece in the 1970s and began working at his father-in-law's restaurant, Golden Flame. He worked his way up from simple cleaning to cooking over an 8 year span. After making a name for himself, Kostas worked as a chef at Phoenix, a Greek restaurant in Virginia, before realizing he needed a change of pace. In 1990, he was offered the space at 1120 19th Street that Greek Deli still occupies today. At the end of another sold out day, Kostas put on his signature Greek fisherman's hat and told us about how he got started feeding the city.
How did Greek Deli come to be what it is today?
The space was very small the former owner did sandwiches and no hot food. We started slowly, one small meal everyday. Not too many people used to come, but they would come back after they had the food. Slowly, slowly, I bought everything to build up the kitchen. I bought an oven, then another oven, then a steam table, then another. It started to get busy after three years. At the beginning, my wife helped me so much, she used to come here everyday because I couldn't afford to pay people – my wife, she was my right hand [when we first opened].
What makes the restaurant special?
I love what I do, I love to cook and I love to see faces. I know everyone from the area, about 1000 names, and I know what they want to eat. Everything is homemade from scratch and I cook for the day, I don't reheat from a freezer. My father-in-law used to say to me that anything I do, anything I cook, always think about my family, think about feeding my family because if it is not good enough for my daughter, my wife, my grandchildren then it is not good for anybody.
Greek Deli has been a DC mainstay for 29 years, what does the future hold?